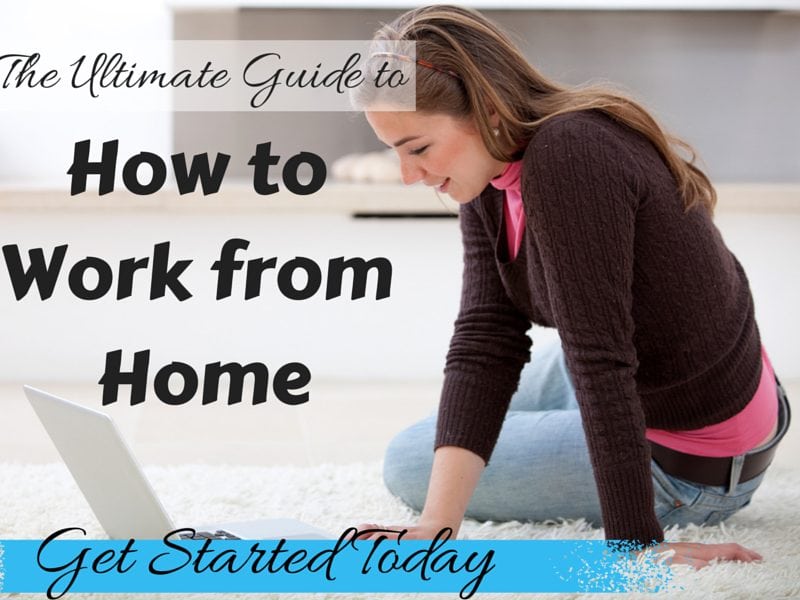 Fed up with your work place? Sick of a long commute? Want more freedom and flexibility with your time? Or perhaps you're at home with the kids and want to earn some extra money on the side. There are many reasons why you might want to start working from home. In this guide, we will hopefully inspire you to start your new career!
Working from Home
The ability to make money at home may seem like an impossible dream, but in the 21st century it is easier than ever to start a home based business or to work an online job. There is a never ending list of different jobs and business ideas that you can do from your own home. It is also not as rare as you might think. Over a million Australians work at home. This number is rising all the time. In fact, the Federal Government announced in 2012 that they would like 12% of public servants to be working from home in Australia by 2020.
There are many benefits from earning money from home. Here are just some:
No time wasted on commuting
Increased flexibility with time
Perfect for parents
The possibility of working from anywhere, eg the cafe down the street, a beach in Thailand, etc
The possibility of managing your own hours and how much or how little you work you do
Of course, the way you are earning money will determine the exact benefits and not all of these will apply to everyone. As a mum of young kids, I know what appealed to me most was the freedom and flexibility with my time. I can chose when I work, for example when the kids are asleep. I also like that I can work from anywhere. The other benefit for my family of earning money from home is that it means that there is no primary caregiver for our kids – my husband and I can both share the parenting.
Once you are convinced you want to work at home then you need to work out how to work from home. Below, I will give you many different ways to earn money online and offline. I think the hardest part about finding a way to make money at home is to decide which idea to try. There are just so many ways that you can successfully start making money. These suggestions are for working from home in Australia. However, the vast majority would apply to people all over the world.
Ways to earn Money from Home
Ready to see some ideas to make money? Want to know how to earn money from home? In this section, I will share some of the best ways to make money at home that are not online specific, although some can be completed fully online. Some are self employment ideas, others are best suited for a home based business and others are jobs that are done for a traditional employment contract but have the flexibility of being able to be completed anywhere.
If you are yet to explore your options of working from home then you may be shocked to find so many ways to make it happen. Some are more suitable for experts in a field whilst other jobs almost anyone can do. You will benefit most from applying for jobs that are at your skill level and that you know you will enjoy, as these will not only give you best opportunity for success, but you will enjoy it too.
Accountant or other Professional
The best way to make money at home can be to take whatever you already do and start doing it from home. Accounting services are a great example of this. Many companies outsource their accounting especially small businesses. If you have this skill, you could start freelancing at home as a small business accountant or arrange a flexible working arrangement with your existing boss. Working in online accounting is very possible. Many accountants advertise their services online and do everything through the internet.
How to get started now
If you already have a job as an accountant, talk to your boss about whether it is possible that you can do the job at home. If this does not work, then you have many options:
You can search job websites for work home based accountancy jobs.
You can list your services on sites such as UpWork or Freelancer.
You can connect with local businesses and ask if they need a small business accountant.
You can ask all your business contacts if they know of any work opportunities.
You can put a sign outside your house offering accounting services.
It can be surprising how often these simple methods can work if you just give it a go.
Cake maker
You can earn money from home as a cake maker. You could sell your products to local shops or if you are good at cake decorating, you can sell cakes online. This is a great option for anyone with this skill set. Many people are looking for cake decorators for special events, especially kids' birthdays.
How to get started now
If you have already been a cake maker, collect photos of your best work and testimonials, if not then bake up a storm and do some of your best cake decorating work and take some great photos. If you are not able to take great photos yourself, it is worth considering hiring a professional food photographer, as it's important that your photos look top rate and show off exactly what you can do.
Next, you need to work out how to market yourself. If you want to sell to local businesses, contact them, give them samples and discuss whether it is possible to sell your goods to them.
If you want to sell the cakes yourself, a great idea can be to set up a Facebook page showing off photos of some of the best cake decorating jobs you have done. Once you have this set up, share it with your friends and encourage them to share it through their networks. A website is also an excellent way to start but a Facebook page can be a quick way to get going and get your first jobs.
Bookkeeper
As with accounting, if you are already a bookkeeper, you may be able to transfer your existing job to home. If not, there are many paths you can take to start bookkeeping from home. If you cannot get a bookkeeping job from home or if you would rather not work for someone else, you can start your own bookkeeping business.
How to get started now
If you cannot move your existing job to home, you can do the following:
Look for bookkeeping jobs from home.
Advertise your services on freelancing sites such as UpWork.
Ask your existing network of friends, family and business contacts if they know anyone with bookkeeping work.
Contact local businesses to see if they have any bookkeeping work.
Advertise your services in a local paper.
It can sometimes take a bit of time for these efforts to pay off, but over time there is no reason why you can't have a successful bookkeeping business.
Family Day Care
A great way to work from home in Australia for a parent can be to start a family day care business in your home. This especially works well if you have your own young children.
What is family day care? Basically you look after local kids in your home that need child care while their parents are busy and they pay you. This can be quite flexible and you can pick what hours you are available to care for children, whether you provide food and other aspects. Here is more information about family day care. It is by the NSW Family Day Care Association but the information is relevant for everyone.
How to get started now
Find your local family day care scheme. They will help guide you through the process of starting a family day care business in Australia.
Get appropriate insurance and qualifications. Family day carers need to have a first aid certificate and be working towards a qualification in children's services. You will need a working with children card as well.
Prepare you home. Your local scheme will have rules for child proofing your home and making it suitable for taking care of children.
Get ready to start taking care of kids! Your local scheme will find children for you that need care and will also advise how many children you can look after at the one time.
There is a fair bit of work involved initially in working for Family Day Care Australia, but once you are all set to go, this is a great option for people who love kids and want to earn money from home while still taking care of their own children.
Jewellery Maker
Becoming a jewellery maker is a great option for the craftier people amongst us. You do not need to be a high class jeweller to make a decent income from making handmade jewellery from home.
How to get started now
The first step is to make some handmade jewellery. I suggest making about 5 – 10 varied pieces to start with and doing a poll of everyone you know that would be in your target market to see what pieces are the most popular. This can give you an idea of what might be the best pieces of handmade jewellery to sell.
The next step is to start trying to sell jewellery. Here are some ways to start:
Enquire about a stall in a local crafts market and try selling your jewellery there. Even if you think selling online is the way to go, doing this at the beginning can be a great way to get feedback from your target market and to get a better idea of what items are likely to be popular.
Set up a website and/or a Facebook page with great photos of your pieces for sale and try to sell them this way. There are many Facebook pages that people have started in this manner that have turned into successful businesses.
Start an Etsy account and sell jewellery this way. Etsy is a very popular site and a great way to sell handmade jewellery.
Here are some great tips about selling jewellery on Etsy:
As with cake making, I suggest getting professional photos of your jewellery pieces from multiple angles.
The best part about selling your jewellery online is that it doesn't limit your customers to your local area and you can sell to people everywhere. Remember to take into account postage prices.
Uber Driver
Most of us have heard of, or used Uber, but have you ever considered being an Uber driver? With the flexibility to work the hours you want, as much as you want, Uber is an attractive option for those that want to be independent workers. Although not strictly a work from home job, using your own car and choosing your own hours means it makes the cut.
Signing up to become an Uber driver is easy. There are certain requirements to be successful such as a clear criminal record and no driving suspensions in the last 3 years and a car that is in good condition. If this sounds like something that interests you, read more below on how to sign up.
How to get started now
Because it is so easy and an instant way to start earning cash signing up is worth it. Before you do, you must be sure that you meet the basic criteria set out by Uber, including a vehicle less that 9 years in age in good condition with a minimum of four doors. You must also a pass a criminal record check. Once approved, you're in!
The first step is to apply. You can sign up to become an Uber driver here.
You will need to have your car inspected to ensure it meets Uber's suitability. You can have this done at an Uber inspection station or an independent service station, so long as it is certified.
You will need to wait until you clear a criminal record check.
You're approved and ready to start earning!
Airbnb
With the rising popularity of Airbnb, why not try and see if this could work for you? Airbnb is a fabulous way to make money from home, and it hardly requires you to do anything at all!
If you haven't heard of Airbnb, it's basically where you rent out your home to others for a short amount of time. You can rent out just a private room, or even your entire place.
Signing up to Airbnb is one of the easiest parts of the entire process, and beyond offering exactly what you promise when people stay, there's nothing else to do! It's also a great way to socialise and meet people from all around the world.
There are certainly some people that will profit more from Airbnb than others. Particularly desirable locations include inner city suburbs in one of the capital cities, such as Melbourne and Sydney, and in close proximity to attractions. However, with a good enough marketing plan, nearly anywhere can be profitable.
How to get started now
Before applying for Airbnb, you need to understand your requirements as a host and be clear about exactly what it is you are offering.
The first step is to apply. You can sign up to become an Airbnb host here.
Get professional photos of the space you will be renting. Ensure these look good – after reviews, photos are the most important part of any Airbnb profile.
That is it! Just have the space you're renting looking great when you host your first guest!
Using the Internet for making Money from Home
Once upon a time, making money online seemed absurd – if anyone was doing so, they had to be running a scam. These days, things have changed.
Many businesses have shifted their presence to almost entirely online, and this has opened a world of opportunities. As conducting business online becomes more trustworthy, more and more opportunities are presenting themselves.
Working online from home has loads of benefits which make it a very attraction option – you can spend less time with a daily commute, become more productive and provide you with far greater flexibility than other options.
Below are some ideas specifically suited to people who want to work from home online. These are some of the easiest working from home ideas to get started right now. So fire up your computer and get to work.
Data Entry
Data entry is a straight forward job that just about anyone can do. If you are not fast at entering data now, you soon will be! Data entry basically involves entering data.  You might do things like enter data from a pdf into the correct cells in a spreadsheet, or it may require a bit of research such as entering all the contact details for all the hotels in London into a document.
The downside with this type of work is that since most people can do it, including those who don't necessarily speak english well, data entry jobs can be often be done by anyone, anywhere. This means that data entry from home is often outsourced to workers in countries such as India and the Philippines where labour is very cheap. It can be difficult for Australians to compete as it is often not worth working for a couple of dollars per hour. This does not mean you shouldn't try, just be realistic about how much money you may be able to make from this and where the best places to look for jobs may be.
How to get started now
The best way to start working online in data entry is to just get started! Here are some ways you can get your first data entry job…
Read our guide to data entry work.
Look for jobs on this website and other online job search engines.
Set up a profile on online freelancing sites such as UpWork and apply for data entry jobs. Try to find jobs where they want Australians or native English speakers, otherwise the job pay is likely to be very low. Check out our list of the best freelancing sites.
Ask your friends, family and acquaintances if they know of any data entry jobs from home.
Contact local companies and temp agencies and see if they have any work or if you can put your name down for local work when it comes up.
Paid Surveys
If you haven't heard of it before, it may seem strange that one of the ways to earn money from home is to complete surveys, but there are actually a lot of sites that will pay you to complete them.
This can be an easy way to make money.  However, as you might suspect, it is not well paid. You are never going to earn enough money to work full time doing paid surveys. However, it can make for some nice bonus money. This form of online work is popular amongst stay at home mums who can fit in surveys inbetween looking after their kids but don't have the time for more longer term work.
It really is a very simple way to earn some extra money. The most important part is to ensure that you only bother with legitimate sites that aren't going to waste your time and not pay you. Ensure you read the fine print. Some sites do things like have a minimum level of earnings before they will pay you out. This amount could be far higher than you are ever likely to earn meaning that you will end up not earning anything. It's also important to be sure that they will pay Australians and if you earn the money in another currency, that you will not lose all the money in fees. Here are some good tips:
Get started with Toluna right now. Click here for Pureprofile surveys.
Blogging
Another option for making money is blogging. This is an area I am an expert in as I run two blogs. In some ways it can be the easiest and the hardest way to work online. For many bloggers, it is very hard to start earning money. This is generally because many bloggers start their blogs as a hobby and don't think strategically about how they will market their blogs and make money in the long term. However, if you start your blog with a business mindset and think strategically about what your blog will be about, how you will market it and how you make money blogging, then there is no reason that blogging can't be your path to working online.
How to get started now
The most important thing to ensure you have a successful blog is research, research, research. Your blog needs a niche (the topic the blog is about) and ideally it needs to be a niche which isn't over saturated and is easy to monetise. When starting a blog you need to think like a marketer – What is different about your product compared to your competitors? Why should people come to your blog? What are your competitors doing to make money? How can you be better than them? How will you reach your target audience so they know you exist? How will you keep their attention?
If you start a blog with the right niche, plan and marketing strategy, it can be a great option.
Typing and Transcription
If you want to work from home in Australia typing or doing transcription work, this is also an option. This is another area where it can be easy to start making money immediately.
How to get started now
The first step is that you do need to be able to type at a reasonable speed. If you can not or want to improve your typing, there are many tools online to help you do this. I enjoy practising with keybr.com.
Once you can type at a decent speed, it is time to find a typing job from home. If you have a certain skill, such as you have worked in medical transcription previously, you can earn more money and will find it easier to find jobs. If you are serious about working in this area, it is also possible to do online courses to learn these specialist skills.
If you are going to do transcription work, it is worth investing in the right gear. A good headset is a must as is a digital foot pedal and audio playback software. These last two items can save you a lot of time.
To find a job, here are some suggestions:
Look at our jobs section, your local paper or online job search engines
Sign up for an online freelancing site, create a profile and apply for typing and transcription jobs.
Contact local businesses and ask if they have any typing or transcription work. You might be pleasantly surprised.
Freelance Writer
There are many opportunities for writers to be working online and the internet is only increasing opportunities. It is not always important to be an excellent, trained writer either. Obviously the better you can write, the more money you can make, but as long as you can write clearly, there are freelance writing jobs available.
How to get started now
How to become a freelance writer? Start by making some type of writing portfolio. This can be made up of word documents or links on the internet to pieces you have written. If you have a blog you can use this, but write a list of links to your best pieces.
If you don't have anything published online yet, it can be a good idea to try to get something up. You could start a blog, or try contacting other blogs or sites and offer to guest post for them for free. If you do the latter option, I suggest being very clear when you contact these sites what you want to write about and why. I also suggest building a relationship with the site first by commenting or contacting them on social media. I know as a blog owner, I ignore most requests to publish a post on my sites as 99% of them are people trying to put a link up for free. Explain in your pitch why you like their site and how you are trying to expand your writing portfolio and that you will not include any links.
The next step is to look for freelance writing jobs in Australia. I suggest you look here first as the pay is likely to be better. As with other jobs, you can:
Look at this site and other online job sites.
Ask everyone you know. Do you have Facebook? You could try posting in your status about how you are looking for freelance writer jobs.
Contact organisations where you feel your writing would be a good fit. For example in the past because of my travel blog, I have contacted travel booking sites that have a blog and pitched to them.
We recommend this book as a great starting point for getting started with online writing.
After this, try online freelancing sites. The competition on these can be fierce and you may have to start with lower prices, but once you complete a range of jobs successfully then you should be able to command more money. Read our article about setting up a perfect UpWork profile. Here are some great tips to get started by a full time freelance writer:
Graphic Designer
What is a graphic designer? Graphic design is generally about creating graphics for media. For example, creating the banner for a website, a logo for a company or the overall design for a website. They may do print work as well. There are many graphic design jobs that are perfect for working online.
How to get started now
The first step is to create a portfolio. You could do this online on your own website or even just create a profile on a service such as LinkedIn and link to you work. Ideally, you want to have examples of your work somewhere that you can show potential clients.
If you have no commercial experience yet, a good first step can be to get some. Do you know anyone with a site or blog? Offer to make them a new banner or logo that they don't have to use unless they like it.
Once you have some work to show off, it is time to look for graphic design jobs. Many opportunities for graphic design online are short term contracts where you just build a banner or logo so often freelance graphic designers spend a lot of time looking for work. Here are some suggestions:
Contact everyone you know and tell them you are looking for graphic design work.
Make a profile on freelancing sites and apply for graphic design jobs.
Try out sites such as 99 Designs where jobs are listed and you can compete for the work.
Programmer
If you are a computer programmer or have some coding skills, this is a perfect job to transition to a home environment as it is easy to do online. However if you want to earn normal Australian programming salaries freelancing from home, it can take a bit of time and effort to build up the right clientèle who are willing to pay normal Australian prices.
How to get started now
If you already have professional programming experience, the first step can be to keep a look out for programming jobs with flexible work arrangement or to try to do your current job from home.
For people without qualifications or experience, I suggest getting some experience. The best way to do this can be for someone you know or by using online freelancing websites. There are many programming jobs on these. If you quote low prices, you should be able to find a job without experience. This can be a way to grow a portfolio of experience while still earning some money.
Once you have some experience, looking for work is much like the other job options above:
Look for work on more traditional job sites.
Use your existing networks to try to find work – friends, family, colleagues.
Use online freelancing sites. Try to find jobs which could grow into a regular contract.
The other option is to program your own software product and sell that instead of programming for someone else. This can take longer until you are actually earning money, but it you have a good idea it could be far more profitable in the long run.
These are just a taste of the many ways to earn money at home. Read our list of 50 ways to make money online, our guide to choosing a freelancing career path and keep coming back for more ideas so that you can find your perfect job from home.